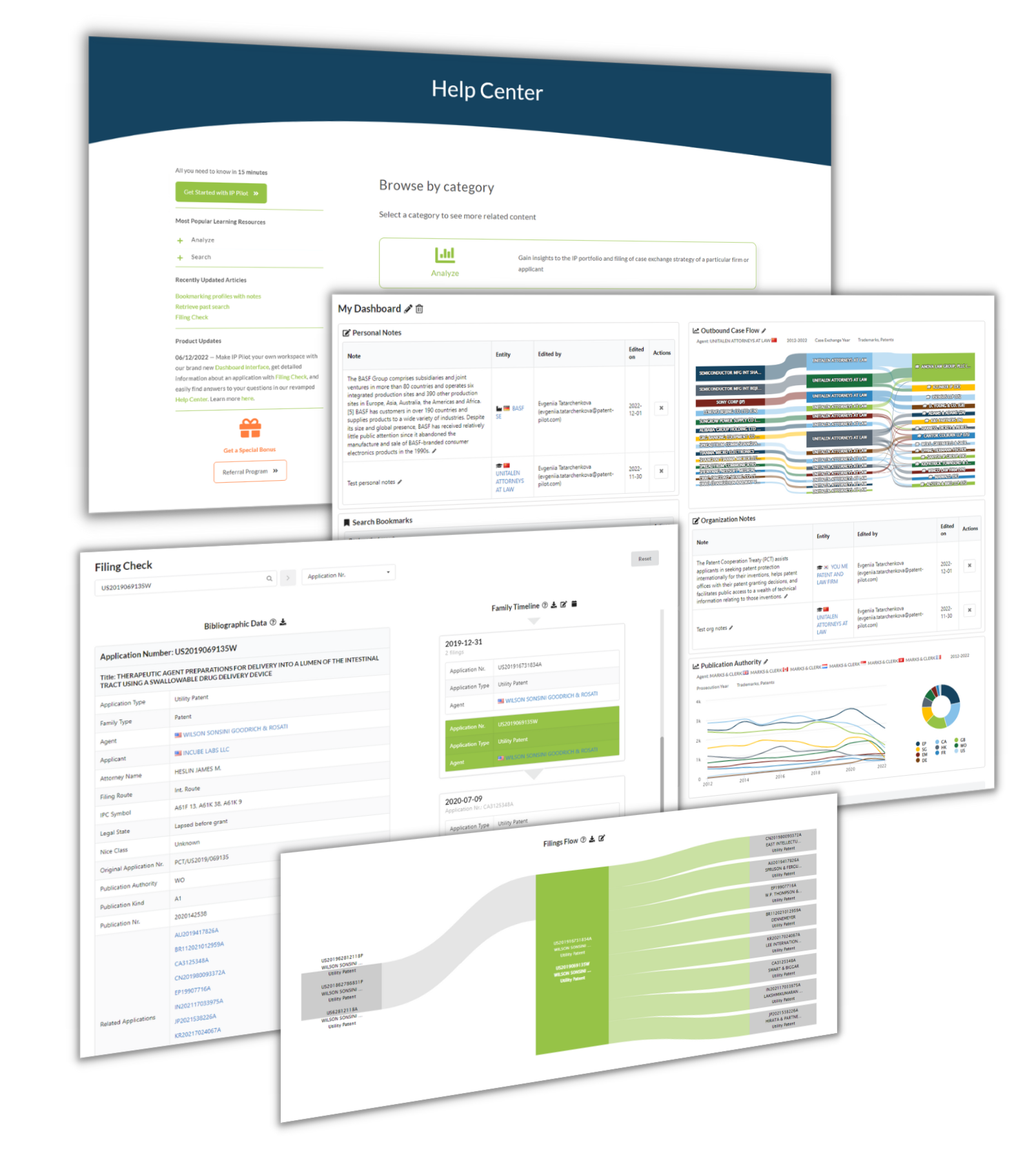 Make IP Pilot your workspace with our brand new Dashboard interface, get detailed information of an application with Filing Check, learn more about IP Pilot's top features or use cases, and find answers to your questions in our revamped Help Center.
Dashboard Interface: Save Profiles, Searches and Make Personal Notes
For easy reference and sharing, you can now bookmark law firms' or applicants' profiles, the most informative charts within profiles, and Standard Search setups with our new Dashboard feature. You can even make notes and share your thoughts or observations about promising clients and partners with your colleagues. All bookmarked pieces of the data, including your notes, are saved and available in Dashboard(s) that you can customize.
Filing Check: Derive Detailed Family Insights about a Filing
Filing Check allows searching for a specific patent or trademark filing by (original) application number or publication number and retrieving its relevant bibliographic information, including assignees' and inventors' names, related applications' list, IPCs, or legal state. It also shows all other filings within the same family, in chronological order, and defines where it belongs within the three stages of the family flow.
Help Center: Find Immediate Answers and Support
We have completely revamped how our users can quickly and easily learn about IP Pilot's features and top use cases. Log in to the IP Platform tool to access materials and find answers in a self-serving manner. Navigate between three main sections, including Analyze (to learn more about the information available in profiles), Search (to generate a list of target law firms or applicants based on your firm's specific requirements), or Insights (to leverage our in-built algorithms to obtain a more accurate analysis of law firms or applicants case).
Still struggling to find a solution? You can always drop a line to our support team or schedule a training with the product experts.